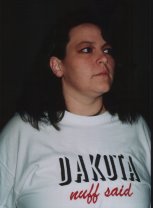 Ht: 6' 2" &nbsp Years pro: 1 &nbsp Hometown: Jonesboro, AR



Career Highlights: June 5, 1999 - Palmersville, TN - winning a battle royal against 8 men
Misc: Currently working as Personal Security/Manager for Ricky Murdock and Austin Rhodes, The New Texas Outlaws, in the NWA-Midsouth/WOWF, MidSouth Wrestling, NWA Mississippi, and IWA. Also manages Missouri Bad Boy, Joey Venture.
Dakota has been known to get in the ring for action of her own. It does not matter if you are female or male her choke slam works the same on all.
Finisher: TDF (The Dakota Factor)
Person I would most like to Meet: Chyna
Best advice ever received: Squash all the cockroaches and their relatives or they will try to make your life MISERABLE!!
Quote: nuff said!!!!!!


---